We established Life Scientia Limited in 2014 focusing on technical consulting and engineering services for research and manufacturing facilities of life science based products as a main service area. We have been providing the services of high quality to many clients in the area of pharmaceutical manufacturing, especially biopharmaceuticals, sterile pharmaceuticals, vaccines, regenerative medicine products as well as cosmetics since establishment.
Now we are receiving a high evaluation to our achievement and recently we have an increasing inquiry receiving of engineering works of conceptual design and front end engineering and design for a large scale new manufacturing facility from many clients. Also in the area of technical consulting, we are deepening our technology knowledge through continued support jobs to client and are receiving assignments requiring more difficult and advanced technology now.
We will increase our resources more and strengthen our service execution capability to meet client's expectation, and enhance our technical capability by widening technology field.
We are going to intensify our efforts to provide high quality services making best use of our accumulated technology and experience and continuously mastering of technology progress and leading trend of regulations.
President
Osamu Shirokizawa
Company Outline
Name:
Life Scientia Limited
President:
Osamu Shirokizawa
Director:
Seiji Takahashi
Hiroshi Kyogoku (Senior Adviser)
Established:
October 2nd, 2014
Address:
208 Nisso Building No. 12, 3-6-12 Shinyokohama, Kokoku-ku
Yokohama 222-0033 Japan
Phone:
(81)45-594-6851
Fax:
(81)45-594-6852
Web:
www.lifescientia.com
Technical consulting services
Operation Program Preparation Support of Manufacturing Equipment and Facilities
Construction Project Management Support
Validation Support
GMP Compliance Audit
Feasibility Study of New and Modification Project
URS Preparation Support
SOP Preparation Support
Sterility Assurance
Risk Analysis
Cleaning Process Development and Validation Support
Industry Area
Pharmaceuticals including Biopharmaceuticals and Parenterals
Medical Devices
Regenerative Medicine
Cosmetics
Life Scientia Limited provides above technical services through life cycle approach with good quality in the practical way.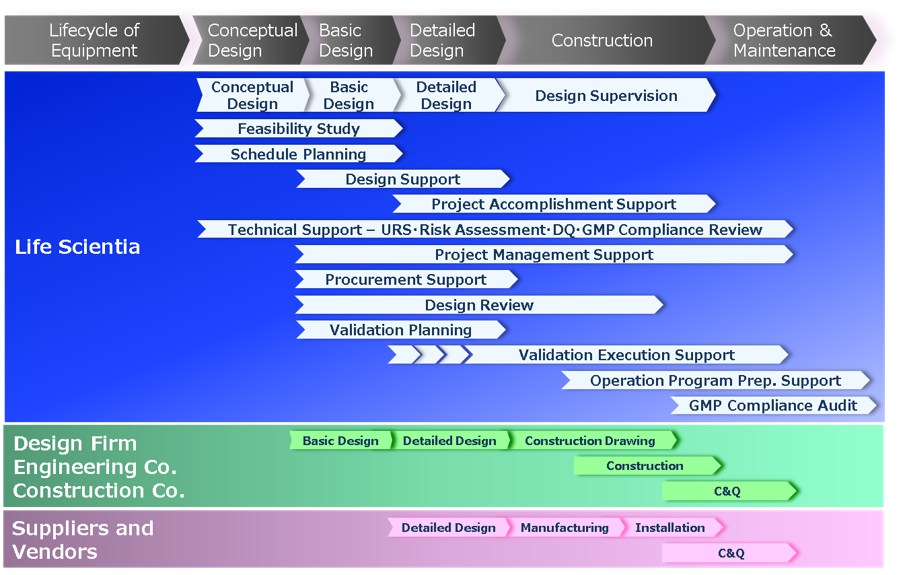 Our Collaborators
We have been collaborating with many global partners. Please visit their web sites via following our links page.
Links to our Collaborators